We currently make several types of birdhouses. All of them are as unique as Mother Nature herself.

Natural aspen birdhouses are made from OLD, standing dead aspen.

We also make "barn wood" houses in grey and red, when we have it.

We make a few "decorative" birdhouses. Among these are birdhouse ornaments.

We make livable outdoor birdhouses. Even though, most agree that they
are all collectable. Here are a sample of them: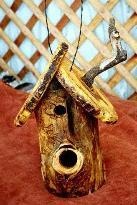 Our premier type of outdoor livable birdhouse. This aspen birdhouse is approximately 7" X 14" with two aspen slab roofs, an entry hole where the limb used to be located, a window with decorative bars, a chimney and a hanger. It is naturally beautiful with insect tracts all over. The bottom may be removed with three screws for cleaning.



(These type of birdhouses are usually sold from $75 and up)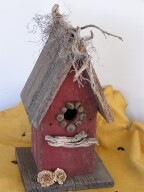 This red barn wood birdhouse is about 6"X8"X14" with a very weathered wood roof. The acorns around the entry are from a trip to Tennessee. The rest are from found items. This birdhouse has a ventilation window on the back with an old door knob plate as decoration.


(These are usually sold from $65 and up)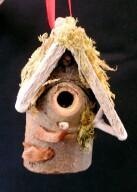 This aspen birdhouse ornament is approximately 3" high. It is made from an aspen branch with a piece of "weathered wood" roof. The stairs and other embellishments are found items.


(These ornaments are usually sold for around $20)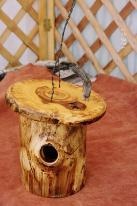 Another birdhouse made from large, old, standing dead aspen. It is made to hang up outside. The three screws on the bottom make it easy to clean. The insect tracts make it beautiful.


(These are usually sold from about $75 and up)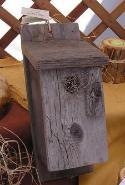 This old barn wood birdhouse was made for the size of a blue bird. One panel opens for cleaning. The aspen bear decorates the front of it. We love the natural weathered wood finish on all of our "barn wood" birdhouses.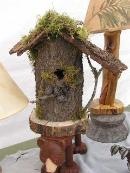 We made this round birdhouse from ponderosa pine bark. It was made to set on a round post or an observation port on a leach field.